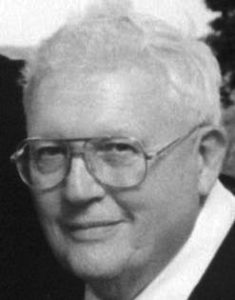 James D. Cahill, 88, of Stroudsburg, died on Friday evening, Oct 16, 2015, at Pleasant Valley Manor in Hamilton Township. He was the husband of Marjorie (Lake) Cahill.
Born on Nov. 23, 1926, in Elizabeth, New Jersey, he was the son of Walter F. and Ruth (Mays) Cahill. After graduating high school in 1944, he served in the U.S. Army in the Philippines. Following the end of World War II, he re-enlisted for an additional three years, serving with the occupation forces in Italy and Germany.
He was introduced to Walpack, New Jersey, as a boy by his uncle, George Moffett. He spent several summers working at Knight's Farm on the Old Mine Road as a laborer met his bride-to-be there as she too worked on the farm during summers. Following his discharge from the Army in 1948, he returned to Walpack and purchased the land next to Knight's Farm in 1949. In 1950, he married Marjorie and began building their home on the land and raised their family, having two children, Katherine Ann and James Mays Cahill. He owned a milk route and served on the Walpack Township Committee for more than 20 years.
Their homestead was condemned for the Tocks Island Dam Project and in 1974 moved to a small farm in Dry Run. He worked the farm, but his passion had always been model railroading. For the next 30 years, he attended train shows every weekend and bought, sold and collected electric trains. In 2006, he moved to Stroudsburg to be near his son, grandson and grandchildren.
He is survived by his wife, Marjorie; daughter Katherine of Kittatinny Lake, New Jersey; son James of Pocono Manor; a sister, Carol Flavhan of Palm Coast, Florida; and his grandson and family, Jacob and Marcy Cahill and grandchildren Emma, Riley and Patrick of Morris Plains, New Jersey.
In lieu of flowers, the family asks that you consider a donation to the Alzheimer's Association at alz.org.