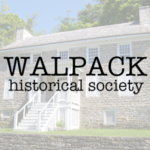 The Walpack Historic Society is seeking photographs of brides and grooms married at The Walpack Center M. E. Church on Main Street, Saint Matthew's R. C. Church on Old Mine Road or any other location within Walpack Township such as Buttermilk Falls or The Walpack Inn.
The first photos submitted for the collection were donated by Kay Utter Kronyak and her husband Dan who were married at St. Matthew's on October 25, 1958. Father Tully officiated at their ceremony. Brenda Utter was bridesmaid and the best man was Robert Kronyak. The wedding reception was held at The Walpack Inn where Jimmy Heigis, a recent graduate of restaurant management school, made the wedding cake. Clarence Utter served as the couple's chauffeur.
We thank Kay and Dan Kronyak for their photographs and their memories. If you are interested in adding your matrimonial memories to our collection, please contact Jen Wycalek of The Walpack Historic Society at (973) 948-4903.